The season of love is upon us and what better way to show your love than with candy!
Ok, I'm sure there are better ways, but candy will do ?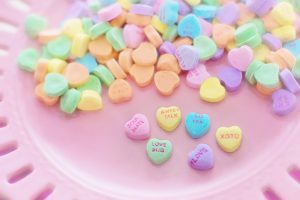 However, what you don't want to do is give your gluten free loved one the wrong candy!  Candy can be tricky, things you would assume to be gluten free are not.  For example, Reese's peanut butter cups are gluten free, BUT have you seen those heart shaped ones that come out around valentines day?  Yea,those are not gluten free.  Almond Joys are gluten free, but almond joy pieces are not!  Crazy, I know!  So, you really need to be careful and read labels.  For some ideas on gluten free valentine candy you can give,click here for Hershey's gluten free products.
You also have to be careful of products that are processed in a facility that also processes wheat.  They may not have any gluten containing ingredients,but there's the risk of cross contamination.  Some celiacs are super sensitive and cross contamination can make them seriously ill.  You don't want to be responsible for that!
If you're looking for more ideas on gluten free valentine candy, how about these or this?
Celiac.org also put together a gluten free valentine candy list.  Click here to check that out!
And for all you guys out there, if you're not sure, just remember…. Diamonds are a girls best friend 🙂