I searched high and low trying to find gluten free companies that give out free samples of their products.  I wish I could tell you I found tons of gluten free companies that do this, but that would be a lie!  However, what I did find are some less expensive alternatives.  We all know gluten free isn't cheap.  This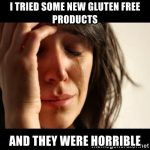 can really cause a struggle for those that need to be gluten free due to celiac disease or a gluten intolerance.  I can't even  tell you how much money I've wasted over the years buying gluten free products that I ended up throwing out because they tasted awful.
If you head over to the manufacturers website, you can usually get a coupon for a $1.00 off or so.  Glutino, Enjoy Life, Canyon Bakehouse, Schar….
Now that we're at the start of a new year, keep an eye out for your local Gluten Free Expo or Gluten Free Food Allergy Fest.  This is the best way to actually sample gluten free products.  Click on the links to see if one is coming to your area.
Are any of you familiar with Katz gluten free products?  They have these really cool sample packs.  For $5.00 they send you 8 individual products so you can try without committing!  For example, they will send you a piece of white bread, a doughnut, a cinnamon roll, a bagel, etc.  Click here to head over there and check it out!  For a small price you can sample several of their products.  I wish other gluten free companies would do the same!
If you know of any gluten free companies offering samples, please drop a line below and share the information!