Products We Love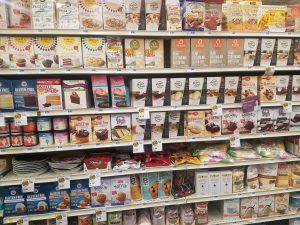 I love that nowadays, you can buy gluten free products at your local grocery store.  The problem is, I have yet to find one store that carries all the products we love.  Grocery shopping turns into an entire afternoon of running around to 3-4 different stores. Honestly, that's why I order so much of my gluten free products online.  
Here's a few of our favorite products!  I'm sure you'll love them as much as we do! 
Tinkyada Noodles, these are the best gluten free noodles we have come across – they don't get mushy!
Glutino Gluten Free Yankee Cornbread Mix
Cup4Cup Gluten Free Flour – This can be used cup for cup to replace regular flour in any recipe.  I have a couple go to flours, this is one of them.
Glutino Chocolate Vanilla Cream Cookies – Yummy!!
Glutino Gluten Free Crackers – We use these for meat, cheese and crackers.
Bobo's Gluten Free Toaster Pastry 
Glutino Gluten Free Animal Crackers
Better Batter Gluten Free Flour – This is one of the best cup for cup gluten free flours out there.
Better Batter  Seasoned Flour awesome for making breaded chicken tenders!
Kind Bars – Several flavors are gluten free – we especially love the Caramel Almond and Sea Salt as well as Peanut Butter Dark Chocolate.
Pamela's Baking and Pancake Mix – We've been using this since Sami was diagnosed 15 years ago!
Pamela's Chunky Chocolate Chips Cookies – Sami's favorite for dunking in milk!
King Arthur Gluten Free Yellow Cake Mix