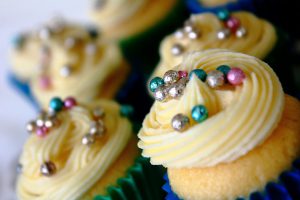 I have a friend that is slowly starting to go gluten free.  Not because she has celiac disease, but simply because her body doesn't respond well to wheat.  There are several reasons other than celiac disease that people decide to go gluten free.  I'll get into that in another post!
The questions presented to me today were – is there a gluten free bakery in Minneapolis?  And, are there any gluten free bakeries that deliver?  Yes, is the answer to both.  For all my Minneapolis locals, I've put together a list of gluten free bakeries in and around the Minneapolis area.  BUT, here's the thing – most of the places listed are bakeries that in addition to their normal baked goods, they also make some gluten free goodies. They are not certified gluten free bakeries.  If you are trace sensitive, you'll want to use your best judgment.   We've had cupcakes, cakes and cookies from many of the places on the list and Sami has never had any issues, but she isn't sensitive to trace amounts of gluten.  While I would imagine they use caution while making their scrumptious gluten free treats!  These are not gluten free facilities so there is always a risk of cross contamination.  However, with that being said, there are two 100% gluten free bakeries in Minnesota that I'm aware of.  I'll point those out on the list below.
Angel Food Bakery – located in downtown Minneapolis. Angels makes gluten free doughnuts, cupcakes, cookies and cakes.  They also deliver!
Bitter Sweet Bakery – located in Eagan, is a 100% gluten free bakery! We got Sami's 16th birthday cake from here!  It was really, really good!  The banana crunch cake – Amazing!
Mixin' It Up Gluten Free Bakery – located in Sauk Rapids.  This is the other 100% gluten free bakery!
Sift Gluten Free – Molly Miller, is the lady behind Sift Gluten Free.  She sells her goodies at Kingfield and Mill City Farmers Markets.  You can also find her treats at several coffee shops throughout the twin Cities.  I read an article somewhere that she was planning on opening an actual storefront – I keep an eye out for that.  Another 100% gluten free bakery in Minneapolis??
French Meadow Bakery – with locations in Uptown and St. Paul, French Meadow Bakery has gluten free cakes and custards.
Sweet Retreat Cupcake Boutique  – located in Minneapolis. According to their website, they don't sell gluten free cupcakes in their store daily, but with a 24 hour notice, they can make any of their cupcakes into a gluten free version.
Cocoa & Fig – with locations in Downtown Minneapolis and Edina, Cocoa & Fig has gluten free french macarons and flourless chocolate cake.
Muddy Paws – located in Saint Louis Park.  They have several flavors of gluten free cheesecake!
Nadia's Cupcakes – located in Maple Grove at the Fountain of Arbor Lakes – Nadia's Cupcakes has a daily selection of gluten free cupcakes.  WE LOVE THESE CUPCAKES! These have become our go to cupcakes for birthdays and holidays or just if we're in the area. They are so good!
Something Sweet by Maddie Lu – located in Coon Rapids in Riverdale Village. Something Sweet, has a daily selection of gluten free cupcakes!
Nothing Bundt Cakes  – with locations throughout the Twin Cities, Nothing Bundt Cakes has a selection of gluten free bundt cakes!
Swedish Crown Bakery  – located in Anoka.  Swedish Crown sells gluten free doughnuts and other pastries such as tiramisu and budapest roll
So, there you have it my friends, if you're looking for a gluten free bakery in Minneapolis, look no further!
If you know of any good gluten free bakeries in Minneapolis or the surrounding area, let me know!  We love trying new places.