No Bake Cookies
Here's what you need: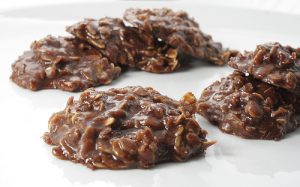 2 cups of white sugar
4 TBS Cocoa
1/2 cup whole milk
1/2 tsp salt
1 stick of butter (softened)
1/2 cup peanut butter
1 TBS Vanilla extract
2 cup gluten free oats
Directions:
In a sauce pan cook the sugar, cocoa, milk, butter and salt – cook for 3 minutes on medium/high heat until it starts to boil.  Remove from heat and add the peanut butter, vanilla and oats.  Stir together and drop by teaspoonfuls on wax paper – Allow them to set for about 30 minutes.