Chicken Chow Mein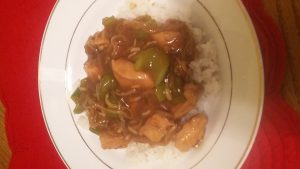 This is a recipe I got from my mother many years ago and it's one of Sami's favorites!
Here's what you need:
1 ½ pounds of chicken breast cut into cubes
2 TBS Olive Oil
½ Onion – diced
3-4 Beef Bouillon Cubes
1 can bean sprouts
1 small can water chestnuts (optional, sometimes I put them in – sometimes I don't!)
1 TBS Molasses
2 TBS Soy Sauce (make sure it's gluten free) I use La Choy Lite Soy Sauce
¼ cup corn starch
1 Stalk of Celery
2 cups boiling water
Directions:
Cook chicken in large skillet with olive oil until no longer pink. Add the onions, 2 cups of boiling water, the molasses, bouillon cubes, and soy sauce.  Heat to a boil and then cover and simmer for 20 minutes.
In a small bowl mix the corn starch with ¼ cup of water –  add to the skillet along with the celery, bean sprouts and water chestnuts – cover and simmer an additional 10 – 15 minutes.  Serve over rice!  We like Kokuho Rose Rice.