Tater Tot Hot dish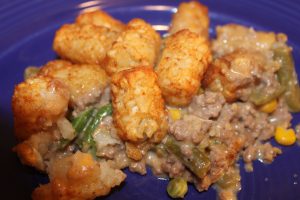 Here's what you need:
1 pound hamburger
½ cup diced onion
½ cup sour cream
2 cups shredded sharp cheddar cheese
1 can Health Valley Gluten Free Organic cream of chicken soup
1 can green beans or small bag of frozen mixed vegetables, whatever you prefer!
1 bag Ore Ida Tater Tots (yes, these are gluten free)
Directions – Preheat oven to 375 – spray a 9 x 13 casserole dish –   Brown hamburger with the onion – Once browned,  mix the remaining ingredients with the hamburger (minus the tater tots) and pour into the casserole dish.   Top with the tater tots and cook uncovered for about 45 minutes.